Standard Building Plans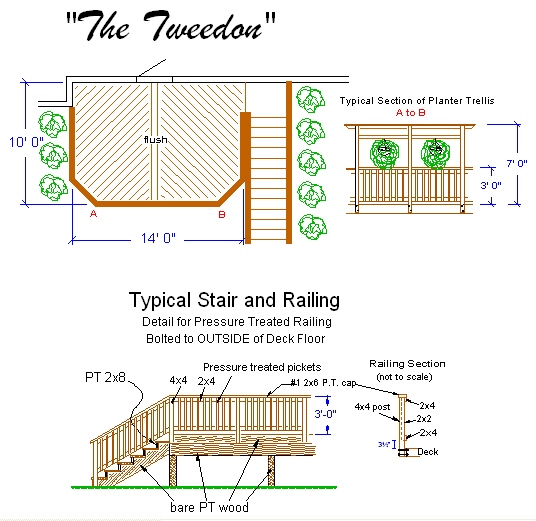 When you are looking through our deck, porch and sunroom plans, you may have a question or two that the following instructions will help answer:
For example: Want to know what a deck, porch or sunroom will cost you in labor and materials built by a fine local builder (member of our Builders Network)… exactly the way it is shown in our drawing… anywhere in the country?
Click on the wood grain button below each plan…

It will show you instantly where all the costs come from… and allow you to modify and tweak and change the deck, porch or sunroom to suit your house, your terrain, your lifestyle and yes, even your budget.
$259.95 includes postage and handling to mail professional quality
Building Plan hard copies (and Material List) and email version.
Click on PayPal link below to buy now.
When you buy through PayPal, be sure to include both your email address and mailing address so that we can email and mail you the Building Plans. Critical information will be sent by email that will not be included in the hard copies we postal mail. Above cost includes postage and handling.
For the computer savvy and adventerous among us, feel free to download the DesignCAD Express 12 file that I used to design the above project (click below to download the file).
Once you get the hang of this CAD program, you will be able to modify the plan any way you want in order to custom tailor fit this project to your house, your terrain, your lifestyle and (yes) even your budget.
As you modify the plan, be sure to change the Excel Price Worksheet as well so you can instantly see how the cost is affected by each change.
---
Dominion Valley Country Club Deck Designs
(Click on a link below. It will bring up a PDF file drawing of one of the decks or deck/porch combinations that we are building in your subdivision for your neighbors. You need Adobe Acrobat Reader)
Warwick Hills Ct.
Arnold Palmer Drive (deck photo pictured to the right)