Save BAGS of Money! 50% OFF Labor & Materials If We Frame—U Finish. Here's How: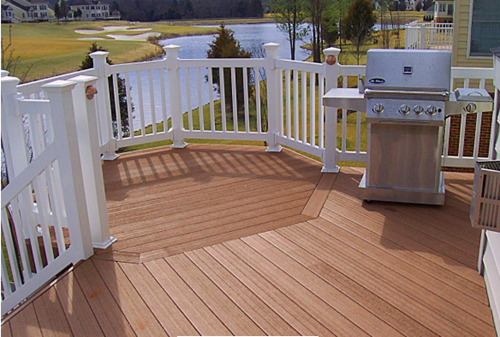 If you are handy with a hammer, we offer a very cool service in which you not only buy materials DIRECTLY from our Supplier (which means we do not mark up the materials like other deck companies do) and get a Homeowner Permit (we give you the Permit Packet to drop off at the county), but then we FRAME the project and you FINISH it.
How does that work exactly? First we help you with the design, working with your budget to custom tailor fit the deck and/or porch to your house, your terrain and your lifestyle… then we generate the Building Plans through our Drafting Department. Finally our Builder uses the Building Plans to lay out the footings, dig them, get a good footing inspection, attach the deck band to your house ledger, install all support posts and beams and floor joists and stair carriages and blocking.
We then call for and get a good framing inspection! You are then ready for the FUN and FAST part: Installing the decking and railings.
Viola! A $20,000 deck costs you $10,000. SWEET!
This not only instantly creates an increase in the value and equity of your house double what you spent, it also gives you bragging rights.
"Look at what I built in my spare time."
Call 540 786-3534 right now for a quote!
We will work it up on our copyrighted and powerful Excel spreadsheet to insure accuracy. We also price out sunrooms the same way.
This amazing 50% off Labor and Materials Is Coming to an End Soon! Hurry and call NOW!