Composite Decks & Porches
Of course we can design and build your new deck or porch with any composite you want, but if you want a composite that:
stays cooler under your feet than others… allowing sunbathers total freedom under the sun
hides its fasteners within the tongue and groove design (no gap decking) so bare skin is protected
resists scratching so you can dance, dance, dance!
won't mold or let unsightly fungus eat into the board
fiercely resists fading and staining so your deck will stay looking good!
is easy to clean so you can spend your time having fun
looks like real wood with a non-repeating laser embossed wood pattern to look soooo rich and natural
won't break the bank so you can afford to have more parties and barbecues!
and carries a limited

lifetime

warranty… then say hello to I.Dekk™
---
And we are the pros who can design and install it for you.  We can even provide a deck board in this same beautiful material that sheds rain storms perfectly to provide dry living below.  Called
DuxxBak™
, it really does shed water like a duck's back.  It is actually water proof and won't let even a drop of rain through.
---
Take a look at some of the gorgeous composite decks and porches we have designed and built for your neighbors in this "Best Buy" composite material.

Lawler Deck (pp 5-9) [GeoDeck]
---
Options (pp 10-13)
---
Kaila Deck (pp 14-18) [GeoDeck]
---
Kaila Gazebo (pp 19-23) [Vinyl]
---
McNichols Deck (pp 24-30) [GeoDeck]
---
Harpster Deck (pp 31-35) [GeoDeck]
---
Fasano Deck (pp 36-42) [GeoDeck]
---
Mills Deck/Porch (pp 43-45) [GeoDeck]
---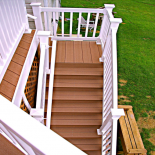 Endy Deck/Porch (pp 46-50) [GeoDeck]
---
Endy Deck/Porch (pp 51-55) [GeoDeck]